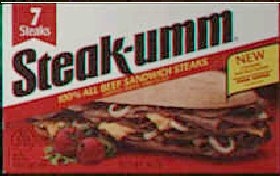 Philly Cheese Steak Pizza
This recipe will make (1) 16″ pizza
Ingredients:
We Recommend using the 1PIZZASECRETS DOUGH RECIPE, but dough/shells purchased from a store can also be used.
2 Cups of cooked "Steak-Umms" shredded
1 1/2 cups of thinly sliced onion
1 cup of sliced green pepper
1/2 cup sliced mushrooms
2 Tbsp of Worchestershire sauce
1 cup of provolone cheese shredded
6 to 7 slices of american cheese
2 Tbsp fresh chopped garlic
3 to 4 slices of velveeta slices cut into 1" strips
*recipe below presumes you are using 1PIZZASCRETS DOUGH RECIPE. If using dough from store, follow cooking directions provided.
Preheat oven to 425 F
-On a lightly floured work surface cut dough in half
-On the work surface using a rolling pin shape dough into a circle
-Oil your pizza pan lightly with olive oil and sprinkle (1) tsp of yellow corn meal on to pan
-Transfer crust to pan
-Brush light layer of olive oil on to crust
-Sprinkle on chopped garlic
-Sprinkle on provolone cheese
-Mix worchestershire sauce with meat mixture then sprinkle on
-Sprinkle on thinly sliced onions
-Sprinkle on sliced green pepper
-Sprinkle on sliced mushrooms
-Place American cheese slices on
-Criss cross "velveeta" strips on
Cook in a regular oven for approximately 20-25 minutes
To check lift one side of pizza. You are looking for the bottom to be lightly browned.
Remove from oven and wait 5 minutes before slicing.
ENJOY!
FREE FROM WWW.1PIZZASECRETS.COM
All Rights Reserved